Director of the Psychiatry Residency Training Program
Educator-first jobs (>/= .2 FTE for teaching/supervising)
Application Deadline: April 09, 2024
Rewarding opportunity for a motivated professional (current PDs/APDs/Core Faculty) inspired on building a premier Psychiatry GME program with Indiana's nationally ranked community-based health system.
Parkview Health is currently recruiting for an experienced and dynamic physician leader (M.D. or D.O.) to head the inaugural, fully sponsored Psychiatry Residency program (4 residents per year) as Program Director within the largest health system in northeast Indiana and northwest Ohio. The Parkview Health Office of GME (which includes the DIO, SVP of GME, and staff) ensures that all graduate medical education programs meet or exceed the requirements promulgated by the ACGME. Fort Wayne, IN, is the region's healthcare hub and consistently ranks among the best places to live in the United States.
With Parkview's GME programs, you'll find:
The Parkview Behavioral Health Institute, a 107-bed acute care facility providing comprehensive inpatient and outpatient services to patients of all ages, is Northeast Indiana's Only Inpatient Mental Health Services for Children & Adolescents.
Fully sponsored, ACGME-accredited specialty programs in Ob/Gyn, IM, GS, PM&R, and Transitional Year.
An extensive residency curriculum for a truly comprehensive, culture-based training experience. Residents rotate through our 12 facilities in NE Indiana. A collegial and collaborative team environment.
Over 3 million patient encounters, and a diverse patient population/ service area of 890,000.
The opportunity to shape clinical research studies at the Parkview Mirro Center for Research and Innovation.
The financial support and significant resources (administrative, educational, and clinical) to create a legacy for both the medical community and future generation of psychiatrists /primary care physicians. Mid-level support available.
A new state-of-the-art academic center, wellness studio and continuity clinic dedicated to GME program activities and advancement.
Access to the latest technologies and a variety of simulation experiences to further enhance your career development.
An expansive network of physicians and locations at this Top 15 U.S. Health System by IBM Watson Health™.
Indiana is ranked as one of the nation's Top Physician Friendly States with low-cost malpractice coverage, low managed care, simple licensing process, etc. Proximity to Chicago, Cincinnati, Indianapolis, and Detroit.
Your Qualifications for the Position: The Program Director will be a BC/BE psychiatrist who is well seasoned clinically but also has the educational and/or GME administrative experience to help guide the development and shape the future direction of this vital and fully sponsored residency program.
Application Instructions:
Submit expressions of interest, including a CV, to Kurt Voelker: kvoelker@kbic.com and/or academicmedicine@kbic.com
Application Link: https://www.kbic.com/job/residency-program-director-psychiatry-gme-eb-1482056030
Parkview Health has a tenured relationship with Kaye/Bassman and has retained our firm, once again, to support them in their efforts to attract and hire talented physicians in GME to join the faculty at Parkview Health Office of GME. Parkview Health EEO/AA Employer.
Excellent Salary + Benefits:

Highly competitive salaries plus annual incentive compensation opportunity
Commencement bonus
Paid relocation
Student loan assistance
Retirement contribution plan
Flexible spending accounts
Medical, dental, vision & life insurance
Short and long-term disability
Other non-traditional benefits
Contact Information:

Kurt Voelker
Sr. Physician Recruiter - Academic Psychiatry
academicmedicine@kbic.com
2200 Randallia Dr.
Fort Wayne, IN 46805
972-265-5306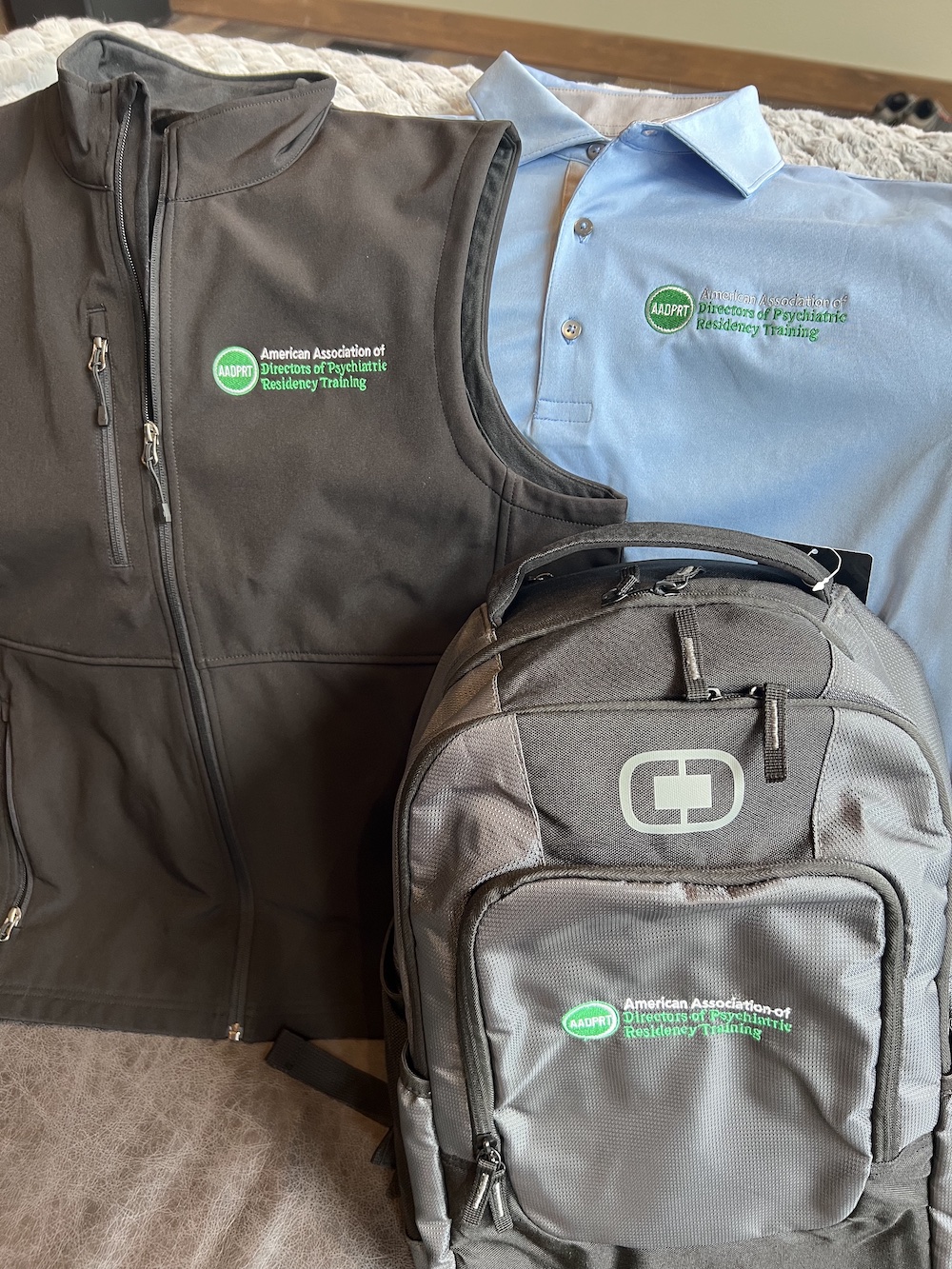 addprt swag store
Get swag.
Do good.
Proceeds benefit our Awards & Fellowships Program.