Committees, Caucuses, Task Forces, Representatives
Committees, Caucuses, Task Forces, Representatives
The Strength of Volunteers
AADPRT is governed by volunteers who sit on its committees, caucuses, and task forces organized around areas integral to the organization's operation and development. All of these are overseen by the Executive Council led by the president. We invite members to get involved by expressing interest in any of these groups to the appropriate Executive Council member.
To better understand the structure of the organization and identify groups you might be interested in joining, please review Committee, Caucus, and Task Force charges and membership lists.

Charges

Committee/Caucus/Task Force Member Lists
---
Committees
ACGME Liaison - Sallie DeGolia
Addictions - Amber Frank
Assessment - Julie Sadhu
Curriculum - Anuja Mehta
Development - Ann Schwartz
Information Management - Ann Cunningham
International Medical Graduates (IMG) - Madhu Rajanna
Justice, Equity, Diversity, and Inclusion (J.E.D.I.) - Ulrick Vieux
Match Consultants - Erica Shoemaker
Membership - Sourav Sengupta
Mentorship - Isheeta Zalpuri
Neuroscience Education - Ashley Walker
Organizational Equity - Ana Ozdoba
Program - Tracey Guthrie
Psychotherapy - Anne Ruble
Recruitment - Anna Kerlek
Regional Representatives - Joy Houston
Workforce Committee - Tanya Keeble
Caucuses
Assistant/Associate Training Director - Eitan Kimchi
Child & Adolescent Psychiatry - Laurel Williams
CAP Caucus Chair Roles, Responsibilities, and Selection
Combined Programs - Jane Gagliardi
Community Programs - Rebecca Lundquist
Director of Small Programs - Gary Swanson
Global Psychiatry - Benedicto Borja
Integrated Care - Anna Ratzliff
New Programs - Rodney Villanueva
Rural Programs - Daniel Elswick
Subspecialty - Carrie Ernst
Triple Board - Amy Kim & Amy Meadows
VA - Position open. Seeking nominations.
Vice Chair - Ahmad Hameed
Procedures for creating and maintaining caucuses
Program Administrator Caucus and Committees
Caucus Chair - Sharon Ezzo
Lucille Fusaro Meinsler Program Administrator Award - Ola Golovinsky
Website Management - Deborah Bibeau
Mentorship - Britany Ratliff
Professional Development and TAGME - Lyndsay Clark, Traci Wooden
Program Planning - Juliet Arthur, Roopali Bhargava, Lora Goudreau
Wellness - Kristin Hollis, Jessie Skriner
Task Forces
Burnout - Donna Sudak
Residency Curriculum and Assessment Review - Jacqueline Hobbs
Regional Representatives
REGION I - NEW ENGLAND
GENERAL - Auralyd Padilla, MD (2022-2025)
CHILD or SUBSPECIALTY - Brian Skehan, MD (2020-2023)
REGION II - NEW YORK
GENERAL - Aum Pathare, MD (2022-2025)
CHILD or SUBSPECIALTY - Manassa Hany, MD (2022-2025)
REGION III - MID-ATLANTIC
GENERAL - Monica Dhingra, MD (2022-2025)
CHILD or SUBSPECIALTY - Fauzia Mahr, MD (2020-2023)
REGION IV - MIDWEST
GENERAL - Victoria Kelly, MD (2022-2025)
CHILD or SUBSPECIALTY - Jyotsna Ranga, MD (2022-2025)
REGION V - SOUTHEAST
GENERAL - Jessica Sandoval, MD (2022-2025)
CHILD or SUBSPECIALTY - Cecilia DeVargas, MD (2022-2025)
REGION VI - CALIFORNIA
GENERAL - Reza Farokhpay, MD (2021-2024)
CHILD or SUBSPECIALTY - Anne McBride, MD (2021-2024)
REGION VII - FAR WEST
GENERAL - Michael (Sean) Stanley, MD (2022-2025)
CHILD or SUBSPECIALTY - Benjamin Lafferty, MD (2022-2025)
Representatives to Allied Organizations and Match Consultant
AAMC/CFAS - Krystle Graham, Sandra Sexson, and Sidney Weissman
Governance Board, Academic Psychiatry - Sheldon Benjamin
OPDA - Deborah Spitz
PRITE - Chris Miller, Mark Servis, Mike Travis, & Laurel Williams
Match Consultant - Erica Shoemaker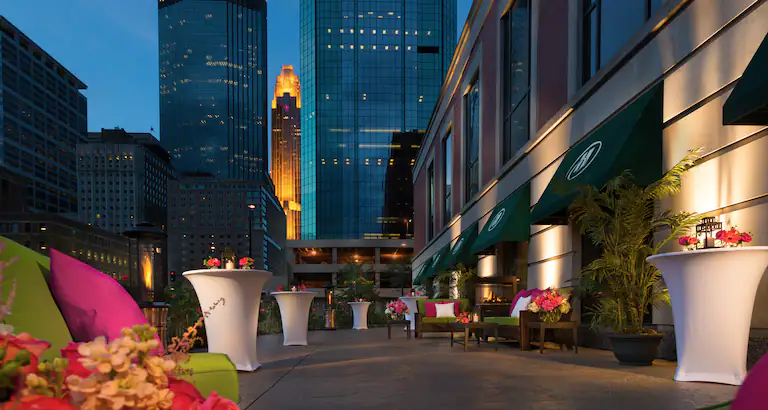 annual meeting
Book hotel today!
Meeting registration opens Tuesday, 12/6.