Award Detail
Award Detail
AAAP-AADPRT Visiting Scholar Award in Addiction Education
Submission Deadline: September 14
11:59pm CT
The American Academy of Addiction Psychiatry (AAAP) and the AADPRT Addictions Committee are pleased to announce the AAAP-AADPRT Visiting Scholars Award in Addiction Education, developed to promote and improve educational programming in addiction psychiatry for general psychiatry residents and Child and Adolescent (CAP) fellowships.
Member programs of AADPRT are invited to apply for this award that will be granted to two select programs each academic year (see selection criteria below). The award consists of consultation from a visiting scholar with expertise in addiction psychiatry and education for one academic year. While applying programs are welcome to suggest desired scholars, selected programs will meet virtually with AAAP and AADPRT Addictions Committee members to further assess program needs and identify well-suited scholars. Scholars will be supported in their work by a stipend supported by the AAAP Sheldon Miller Fund.
Structure of Consultation

The structure of the consultation will be mutually agreed upon by programs and visiting scholars and may include virtual consultation. Consultation maybe spread over the academic year or may be consolidated into a shorter time frame to meet the goals of the program. Both the program and the scholar will be announced at the annual meetings of AADPRT and AAAP.
Selection Criteria
Selection criteria will include:
Clearly defined training needs, goals and objectives
A demonstrated commitment on the part of the program and its leadership to improve addiction training in the program's curriculum.
A program's motivation to improve their addictions curriculum
A need to supplement local resources to assist the program in the area of addiction education (e.g. lack of onsite faculty, lack of specialty addiction treatment programs within the psychiatry department)
Evidence that the program embraces diversity, equity and inclusion (DEI) in its approach to program improvement, including recognizing the unique DEI needs of its catchment area and patient population
Award Goal
The goal of this award is to assist psychiatry residency programs in developing and improving their addiction psychiatry teaching and training. While visiting scholars may serve as content experts to train and coach faculty in teaching addiction psychiatry, the goal is not simply to provide a lecture teaching addictions content, but rather to help programs develop innovative approaches to incorporate and expand addiction teaching into general psychiatry settings.
Educational Outcomes
Examples of educational outcomes for programs receiving this award include:
Developing teaching materials
Creating new addiction-focused rotations
Forging relationships with addiction specialty providers in the program's local community, who may serve as educators in the program
Improving collaboration on the care of patients with SUD across interdisciplinary settings, such as primary care integration or infectious diseases
Developing local community partnerships for resident education (e.g. syringe exchanges, sober housing, judicial system).
Other curricular ideas in addiction education reflecting program needs and required competencies in addictions
Ways to Use Award
The following vignettes illustrate ways in which the award could be used:
A Training Director notes that their current addictions curriculum primarily focuses on somatic therapies, and they use the consultation with an AAAP-AADPRT scholar to build their didactics and clinical offerings on evidence-based psychotherapies for substance use disorder, including contingency management, CBT, and motivational interviewing.

After an increase in opioid-related overdoses in their region, a training program works with an AAAP-AADPRT scholar to develop a 4-year training plan that ensures residents are certified to and receive practice with both buprenorphine prescribing and overdose prevention, including use of naloxone.

A training director starting a new general residency program notes that the only available option for addictions training seems to be at the only "detox" facility in her county. She works with an AAAP-AADPRT scholar to identify additional clinical opportunities for teaching addiction psychiatry and increase the comfort of her general psychiatry faculty with teaching and supervising the care of patients with SUD.
Important Dates

Deadline for the submission of applications by programs: September 20, 2022, 11:59 CT
Selection Committee decision: October 20, 2022
Program/Scholar Matching Process: TBD
Deadline for completion of scholar's consultation to program: TBD
Applications will be reviewed by a subgroup of the AADPRT Addictions Committee with AAAP consultation.
Materials to be Submitted
CV of training director or primary faculty leader(MUST TITLE: LASTNAME_FIRSTNAME_INSTITUTION_CV_ADDICTIONS)
Brief letter of support from your Department Chair or designate for your program's participation.(MUST TITLE: LASTNAME_FIRSTNAME_INSTITUTION_SUPPORT_ADDICTIONS)
Questions should be directed to Amber Frank, MD, AADPRT Addictions Committee Chair, aafrank@cha.harvard.edu or Scott Oakman, MD, PhD, Co-Chair, Scott.A.Oakman@healthpartners.com
Submission Deadline: September 14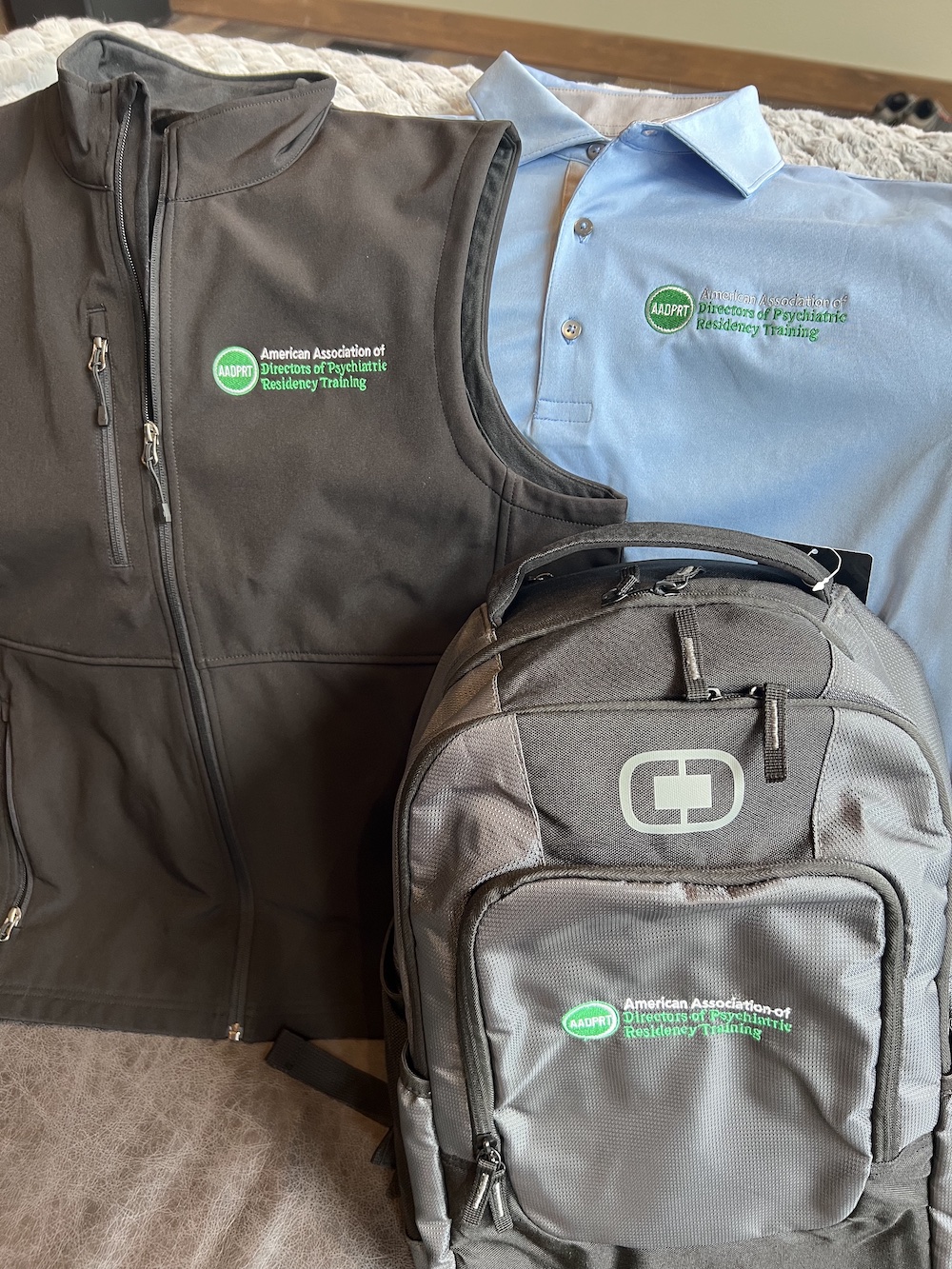 addprt swag store
Get swag.
Do good.
Proceeds benefit our Awards & Fellowships Program.